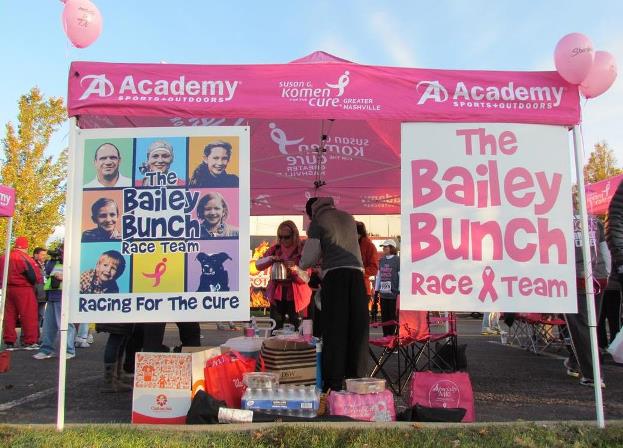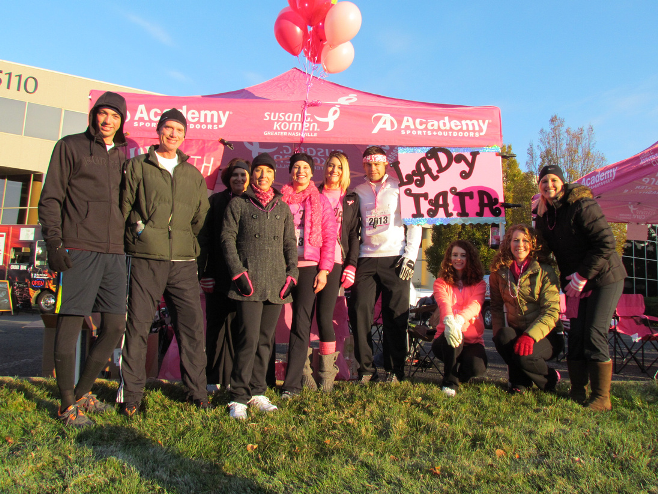 Team Rewards
Teams are the heart and soul of our Race! By starting a team, you can bring family, friends and coworkers together to celebrate a survivor in your life, honor the lives of lost loved ones, or simply support a great cause. In addition to receiving some friendly competition, when you start a team you'll receive a team website, entry into team contests, and eligibility for top team rewards.
Top 10 Tailgating
Your team can join with others near the finish line for team tailgating. The Top 10 teams with the highest amount of fundraising will receive access to this special area. Fundraising includes the amount raised over and above registration fees. Totals will be tallied at midnight Sunday September 25th and announced Monday the 26th. For the Top 10 teams, on Race Day, you'll have a special pink tent in the tailgating area reserved just for you and your team. In that tent, we'll provide a cooler filled with water. We'll also provide a table and a few chairs for you. And very importantly, you'll receive 10 parking passes for the lot adjacent to the tailgating area! This is prime parking available only to the Tailgating teams. You can come early or the night before to decorate your tent area if you'd like.
Top Category Fundraising Teams
There are seven categories of Teams – Survivor Led, Corporate, Group/Club/Organization, and Friends & Family, University, D1 Schools, D2 Schools. The Top Fundraising Team in each category gets a "Stanley Cup" type trophy that your name is added to each year, then passed around and housed with the Top Team for that Race Season.
Team Week
Join us for Team Week in August. During Team week, there will be daily challenges and a week-long ultimate Team winner. This is a great time for many team captains to kick-off their big push for the Race and win lots of fun prizes.