Online registration is now closed...BUT you can still register on site!
Starting at 7:30 a.m. you can register for the event at the Georgia United Credit Union.
There will be a $5.00 price increase on all day-of-event registrations. We will be able to accept cash, checks, and credit cards.
If you are registering on the day of the event, sizes are first come, first serve.
We are looking forward to seeing you there!
Date: March 18, 2017
Location: Georgia United Credit Union * 605 Calhoun Street * Dalton, GA 30721
Time: Check in opens at 7:30 a.m. - Race Starts at 8:00 a.m.
Wash Me Pink will take place Rain or Shine!
Come get "your color on" at the 5th annual Wash Me Pink Color Run to benefit Susan G. Komen Central Tennessee. Experience one of the fastest growing events! Every runner gets "Washed in Pink" -- whether you're slow or fast, tall or short, young or old! Everyone has a great time. Color Washers douse participants with Komen Color at the Color Stations strategically placed throughout the course for maximum fun!
What is the "color" in Wash Me Pink? This is non-toxic, non-allergic, colored corn-starch. Manufactured in the USA, these clouds of starch will change your color, but not your health. Start with a clean, white shirt from the event or one you already have, and finish with a Color Washed shirt!
How to Get CLEAN!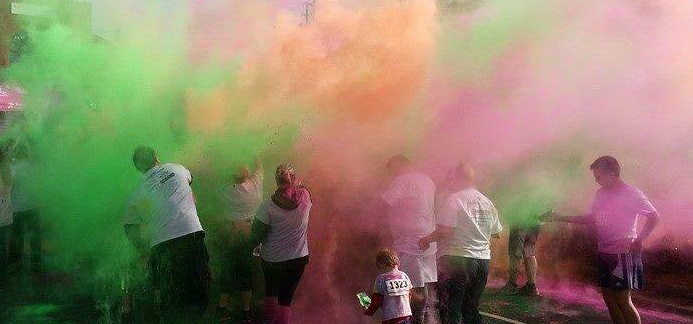 You'll want your memories of Wash Me Pink to stay with you forever. But if you want the color to wash out of your hair and skin ASAP, here are a few tips:
Before the Race:
• Oiling your hair well on race morning will make it easier to wash out the color later. Coconut oil or olive oil work best. A good leave in conditioner will do the trick as well. This is a particularly useful tip for runners with light colored or highlighted hair.
• Some runners wear a thick scarf or bandana to cover their hair. Others use the bandana to cover their mouth as they run through the color zones or to help wash off after. However you choose to use it, a bandana or scarf is pretty useful at The Color Run.
• Wear a good sunscreen and lip balm.
• We suggest some form of eyewear. Some people wear sunglasses or swim goggles. Have some fun with it and try to avoid getting a lot of powder in your eyes.
• Though the color will eventually wash out of just about everything, you may not want to bring your most expensive possesions. This includes strollers, clothing, and electronics and phones.
After the Race:
• Dust off as much dry powder as you can before you apply any water. Most of the color will evaporate!
• Cleaning your hair: Dust any loose powder out of your hair. Rinse out the oil/conditioner you applied before the race with cold water. Most of the color should come right out. Now wash your hair as you normally would. It is not uncommon for hints of some of the color, pink and purple particularly, to stick around for a few washes.
• The color is probably not coming all the way out of your white cotton shirt. But just about everything else should clean up fine. Remove all excess powder before adding water. Wash your Color Run gear separately, with COLD water. Oxiclean, or a similar product, will work wonders on your running equipment. Eventually, it'll all be gone.
We look forward to seeing you on Saturday, March 18th at the Georgia United Credit Union -605 Calhoun Street - Dalton, GA 30721
Our Sponsors:

| | | |
| --- | --- | --- |
| | | |
| | | |
| | | |
| | | |
| | | |
| | | |
| | | |