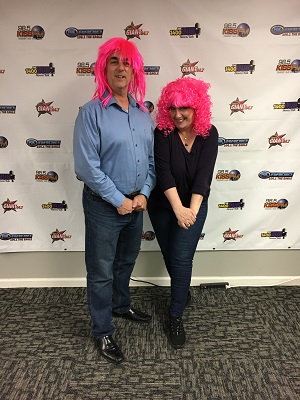 Name: Dianna Kelly & Jonathon Monk

Company: Zimmer Broadcasting, Afternoon Co-hosts for 94.7 the Country Giant
Region: Upper Cumberland
Why are you participating?
Our business manager, Chasity Wilson, is going through active treatment for Breast Cancer.
Where might we find you with this pink wig on?
On air on 94.7 the Country Giant or 106.1 the Eagle, grocery shopping at Food Lion or Save-A-Lot, strolling around campus at TTU, attending various radio station events...
What will be your competitive edge against the other BigWigs?
We have big mouths and we know how to use Facebook, Instagram, and Twitter! We also have NO PROBLEM acting goofy and drawing attention to ourselves!
View More